Biography
Dash Eucliffe Age 10 Age 12

Characteristics

Race

Human

Gender

Male

Age

11

Hair Color

Blond

Eye Color

Blue

Professional Status

Affiliation

Sabertooth

Fairy Academy

Guild Mark Location

Left Shoulder

Occupation

Student, Mage

Partner(s)

Ro Cheney

Base of Operations

Sabertooth Guild

Fairy Academy

Personal Status

Status

Active

Relative(s)

Sting Eucliffe (Father)

Yukino Aguria (Mother)

Hikari Eucliffe (Older Sister)

Magic

Magic

White Dragon Slayer

Debuts

Fanfiction Debut

Chapter 2 ~New Students
Dash Eucliffe is the eleven-year old son of Sting Eucliffe and Yukino Aguria. He is a 1st year student at Fairy Academy. He is a White Dragon Slayer from the Sabertooth guild. Although he probably has the potential to be a good student and as a Mage, he prefers pulling pranks off on others to pretty much anything else.
Personality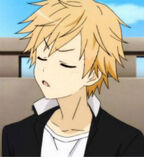 Dash is a fun-loving and hyper child who adores pulling off pranks. Although constantly labelled as mischievous and childish, he claims to just have a better sense of humor. He's a also a bit vengeful, not out of a grudge but because that means tricking someone else. Being a fast runner, it isn't hard for him to dash away from the scene of crime. So take his name into consideration before you challenge him to a race. He simply has no interest in his studies, although he probably would have been a good student... if he wanted to be one.
Relationships
Mizu is a girl in his class whom he has fun teasing and pulling pranks on.