Donny Dagon

Characteristics

Race

Human

Gender

Male

Age

16

Hair Color

Red

Eye Color

Red

Professional Status

Affiliation

Lamia Scale

Fairy Academy

Previous Affiliation

Orphanage

Guild Mark Location

N/A

Occupation

Student, Mage

Previous Occupation

Thief

Team

N/A

Partner(s)

N/A

Base of Operations

Fairy Academy

Lamia Scale Guild

Personal Status

Status

Active

Relative(s)

Mother (deceased)

Father (Unknown)

Magic

Magic

Blue Flame Dragon Magic

Debuts

Fanfiction Debut

Chapter 2 ~New Students
Biography
Donny Dagon is mage from the guild Lamia Scale who practices the art of Blue Flame Dragon Magic. He recently joined the guild and wasn't there before the old school was destroyed making Fairy Academy the first Mage Guild school he's ever been to. He never knew his father and his mother died when he was only 6 years old. Because of that, he grew up on his own ever since. His Blue Flame Dragon Magic - a lost magic - was passed down to him by his father.
Personality
Having to grow up on his own, he prefers to be alone most of the time often getting annoyed by the dozens of girls in his class who coo over him and follow him where ever he goes because he doesn't see them as friends but just fan-girls. Other than that he's out-going and quite brave despite him not able to make many friends among the other boys because of the constant large group of girls following him around.
Relationships
They met when Lexy, Lucas and Jay took a job to take care of a thief who used his magic to get away with it. He was the guy they were looking for, after his defeat and getting caught Lexy took pity on him and decided to give him a second chance instead of sending him to the Magic Council, he was just a orphan trying to survive after all. She told him about guilds where everyone was like family there and he could go on missions to earn money. Few months later that's when he joined Lamia Scale.
H
History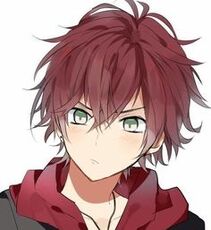 He had to survive on his own since he had no family left or at least any that he knew of. The people from his hometown sent him to an orphanage without a thought after his mother passed away. After spending 8 years there and having no luck at being adopted he finally ran away at the age of 14 after discovering his magic powers. From then he started wearing a mask and stealing from the village. 2 years later his life changed when 3 mages were sent to capture him, to his surprise one of them decided not to send him to prison but let him join a guild. Of course Lexy threatened him that if he didn't join a guild and continued to steal and cause trouble or got caught up with a dark guild that she'd track him down definitely send him to the Magic Council and electrocute him till he learned a lesson if she had to.
Facts
Donny and Lexy were revealed to be dating in Book 3 after his confession to her at the end of the School Magic Games in Book 2