Jane Tearm

Characteristics

Race

Human

Gender

Female

Age

15

Hair Color

Blonde

Eye Color

Green

Professional Status

Affiliation

Fairy Academy

Blue Pegasus

Previous Affiliation

Blue Pegasus High

Guild Mark Location

Right Hand

Occupation

Student, Mage, Model

Team

Unknown

Base of Operations

Blue Pegasus Guild

Fairy Academy

Personal Status

Status

Active

Relative(s)

Eve Tearm (Father)

Jamie Tearm (Younger sister)

Magic

Magic

Snow

Transformation

Debuts

Fanfiction Debut

Chapter 2 ~New Students
Biography
Jane Tearm is one of the kids who transferred Fairy Academy due to the destruction of the other schools. She's a Snow mage of the Blue Pegasus guild and used to attend the Blue Pegasus Academy until that was destroyed as well. She's the older daughter of Eve Tearm, her younger sister is Jamie Tearm who is also a snow mage.
Personality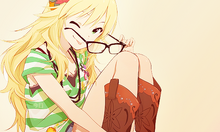 Jane has a lively and energetic Personality. She can be a bit bossy sometimes if things aren't done the way she wants. Living up to the Blue Pegasus Reputation of having the most beautiful and fashionable men and women in Fiore, Jane is a model for Sorcerer Weekly Magazine. She looks up to Jenny Realight as her own mother, thinking of her as an aunt. She also
Relationships
She's frequently fighting with Shanisu over the amount of milk she drinks every day, annoyed by the fact Shanisu bribes the cafeteria lady to keep all of the milk for her and there's none left for herself.
Jane being the matchmaker she is, is always hinting on Gina and Nick's relationship and how close they are even though they tend to fight a lot. Gina usually ignores her comments while Nick denies.
Jane is always trying to get Cole to be more charming like his younger brother and says he should be less focused on work and more focused on girls. She also sees Cole as more of a little brother to her rather than just friends.
Jane and Chase are hardly shown to interact with each other in the story, though they have worked together once for Sorcerer Magazine posing for a pool advertisement.
Magic and Abilities
Like her father, Eve Tearm, and her younger sister she has adapted the use of Snow Magic. She also acquired a bit of knowledge about Transformation Magic from her Role Model, Jenny Realight..