Nikita Dragneel
Alias

Cherry Blossom (By Chase Lates)

Characteristics

Race

Human

Gender

Female

Age

13

Birthday

January 11th (Capricorn)

Hair Color

Pink

Eye Color

Brown

Professional Status

Affiliation

Fairy Academy

Fairy Tail

Occupation

Student, Mage

Team

Team Nikita

Partner(s)

Joy (Exceed)

Base of Operations

Fairy Academy, Fairy Tail Guild

Personal Status

Status

Active

Relative(s)

Natsu Dragneel (Father)

Lucy Heartfilia (Mother)

Lucas Dragneel (Older Brother)

Lakita Dragneel (Younger Twin Sister)

Magic

Magic

Fire Dragon Slayer (Fourth Generation)

Debuts

Fanfiction Debut

Chapter 1 ~First Day at the Academy~
Biography
Nikita is the daughter of Natsu Dragneel and Lucy Heartfilia and older twin of Lakita Dragneel. She's a Fourth Generation Dragon Slayer mage of Fairy Tail and attends Fairy Academy in Class 2-1. She has an older brother, Lucas Dragneel, who along with her takes after more of their dad while her blonde twin takes after their mom.
Personality
Nikita is carefree, often not thinking about things before she does or says them. Nikita is also very caring of her friends and family.
Relationships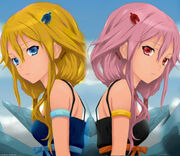 Nikita and Lakita are identical apart from their different hair colour, while Lakita is blonde like Lucy and Nikita has pink like Natsu.
Nikita's exceed Joy, Happy's daughter if you couldn't guess. Joy is a white cat with blue paws and loves Fish like her dad. Joy is 5 years old and has a cheerful and optimistic personality. She has the ability to use transformation magic like her mother, Carla.
Although Naku tends to get on a nerves with his constant crying and whining, she doesn't mind his presence because she thinks her sister likes having him around.
She finds him annoying by the fact he constantly calls her 'Cherry' or 'Cherry Blossom' instead of her real name because of the colour of her hair. Although it's clear he has interest in her she treats him almost the same way she treats Naku, who also annoys her.
Magic and Abilities
Fire Dragon Slayer Magic (炎の滅竜魔法 Honō no Metsuryū Mahō) is a type of Dragon Slayer Magic that grants the user various characteristics typical of a Fire Dragon: lungs capable of spewing flames, scales that grant protection against fire, and nails covered in flames. Consequently, Fire Dragon Slayer Magic allows the user to produce and control fire from any part of their body, which can be used both in melee and as a ranged form of offense
In addition, the user can consume external sources of fire to restore their body to a healthy state and regain their reserves of strength, something that also makes them immune to most types of fire. However, the user can't eat their own flames, or things set on fire by them, to reinvigorate themselves.