Scott Redfox

Characteristics

Race

Human

Gender

Male

Age

16

Hair Color

Black

Eye Color

Red

Professional Status

Affiliation

Fairy Tail

Fairy Academy

Guild Mark Location

Left Shoulder

Occupation

Mage, Student

Team

Team N/A

Partner(s)
Base of Operations

Fairy Academy

Fairy Tail Guild

Personal Status

Status

Active

Relative(s)

Gajeel Redfox (Father)

Levy McGarden (Mother)

Magic

Magic

Solid-Script
Biography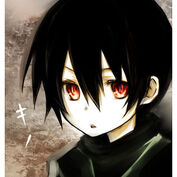 Scott Redfox is the son of Levy Mcgarden and Gajeel Redfox. He gets his eye and hair colour from his dad while his skin complexion is from his mother. Scott is a member of the Fairy Tail guild and is in Class 4-3 at the Fairy Academy and uses Solid-Script magic.
Appearance
Scott Redfox has pale skin like his mother and red eyes that shine like rubies. The colour of his short black hair comes from his father as well as his eye colour. He's average in height and rather skinny though he is not as muscular as his Dad
Personality
He's quite calm, cool and collected often seen reading whether it's at school, the guild or out on a job. He gets overly attached to his books even if he only had them for a few days and can get pretty devious and vengeful if someone damages or loses them, doing whatever he can to get back at them. This may be a combination of both of his parents' characteristics; a bookworm like his mother, yet rather violent with a quick temper like his father. Once Aike took one of his books to throw at Kuri but he missed and it landed outside in the bushes nowhere to be found, few weeks later after Aike forgot about it he put pepper in the cheesecake Kuri was forcing Aike to eat without them knowing of course.
Relationships
He is always left with the task of keeping an eye on her during class from her older brother who doesn't like her being near Aike Vastia. Scott doesn't really do a good job at this as he doesn't really bother about watching her and he just lets her do what she wants, he would get yelled at by her brother for this but he doesn't seemed affected. Kuri is also a member of his team and the only person Jay can trust to watch his sister.
She's the second member of his team, he finds her slightly annoying but he still manages to put up with her.
Magic and Abilities
Solid-Script Magic
He learned Solid-Script from his mother, Levy Mcgarden.