Shanisu Fernandez

Characteristics

Race

Human

Gender

Female

Age

15

Hair Color

Red

Eye Color

Brown

Professional Status

Affiliation

Fairy Tail

Fairy Academy

Guild Mark Location

Left thigh

Occupation

Student, Mage

Team

N/A

Partner(s)
Base of Operations

Fairy Academy

Fairy Tail Guild

Personal Status

Status

Active

Relative(s)

Jellal Fernandez (Father)

Erza Scarlet (Mother)

Naku Fernandez (Younger Brother)

Counterpart

Lana Knightwalker

Magic

Magic

Re-quip
Biography
Shanisu Fernandes is the 15 year old daughter of Erza Scarlet and Jellal Fernandez. She's a member of the Fairy Tail Guild like her parents and specializes in Re-quip magic, attending Fairy Academy in class 3-2. She loves Strawberry milk just as much as her mom loves cakes. She has one younger brother Naku Fernandez who she often loves to tease about his tendency to cry easily.
Personality
Relationships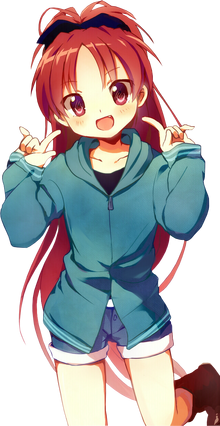 Naku is Shanisu's younger brother separated by two years. He cries easily so she often teases him or insults him just to make him do so. She enjoys tormenting her brother and forces him to do things he doesn't want to do, such as dressing him up as a girl because she states she always wanted a little sister instead of her sorry excuse of a brother.
Shanisu's friend growing up though they hardly talk now but they were friends when they were younger. The two of them are also classmates in Class 3-2
Unlike most, Cole doesn't appear to be afraid of Shanisu's wrath when she is feeling rather down. In fact, much to her great annoyance, he even goes as far as insulting her when she is raging around in her furious aura.